COMING SOON!
For a limited time, order your own Grindstone Island Map Artwork Print! This whimsical artwork of Grindstone Island was commissioned by Jon and Cindy Rusho Hagemann as a fundraiser for the GIRHC.  The artwork features some of the island historic landmarks such as: the Cheese Factory; Upper and Lower Schoolhouses; United Methodist Church; and Dodge Hall. Also featured is Grindstone Island's newest addition, the Grindstone Island Winery. This unique piece of art will be a treasure in your home for many years to come, is suitable for custom framing and will make a perfect gift!
The artist, Rebecca Kuitems (Becky) lives in St. Marys, Georgia where she is a talented artist and a middle school teacher. Becky visited Grindstone as a teen on a summer vacation with the Rusho Family and has found memories of the island.
Two sizes are available and all proceeds will benefit the maintenance and preservation of the Lower Schoolhouse (District #1).
The larger sized prints are hand-numbered and in a limited supply. Don't delay – order yours today!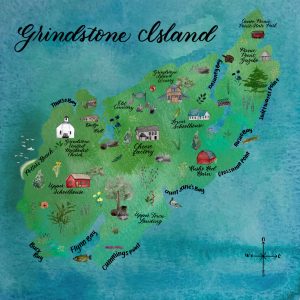 11″ x 11″
$15 Plus Shipping & Handling $5.50 = Total: $20.50
$15 for Pick Up Only (no shipping required)
18″ x 18″
$30 (Limited edition – each print of this size will be hand-numbered)
Plus Shipping & Handling $6.75 = Total: $36.75
$30 for Pick Up Only (no shipping required)