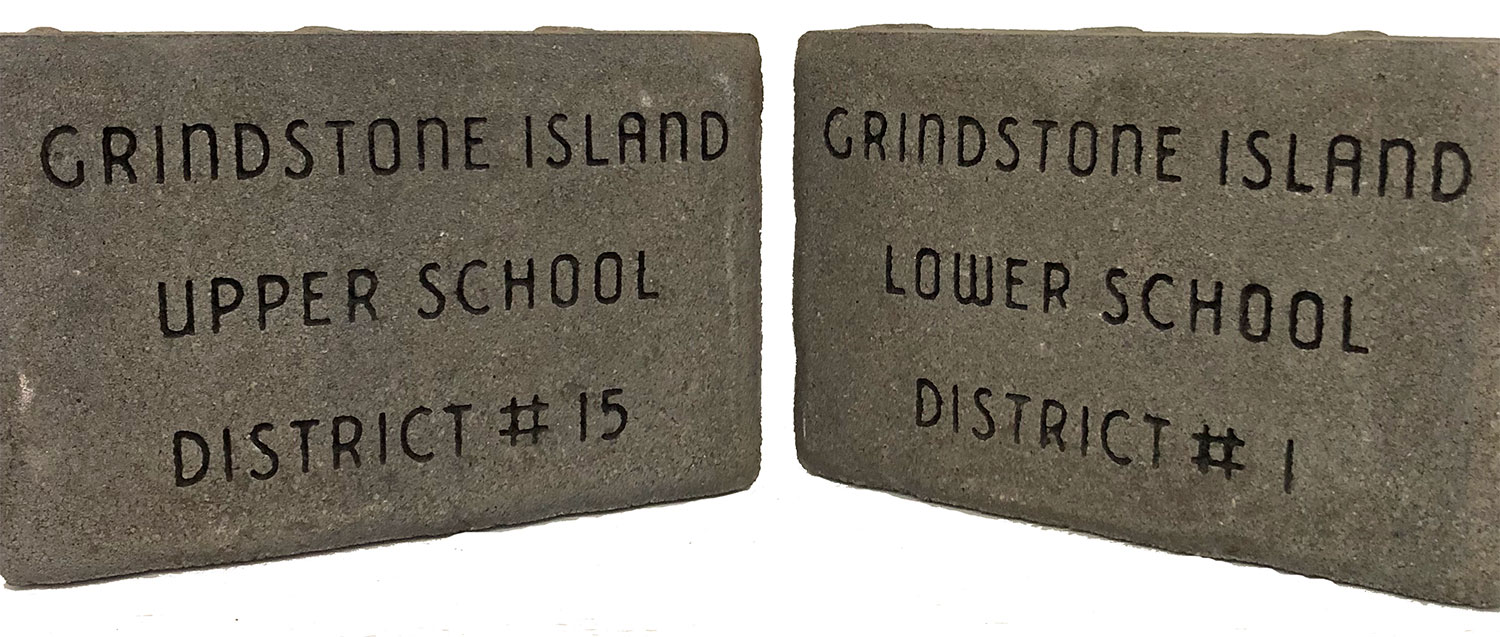 Grindstone Island History: "Cast In Stone" Fundraising Project
The Grindstone Island Research & Heritage Center's Mission is to preserve and protect the Upper Schoolhouse of Grindstone Island and to nurture the cultural, historical, and social aspects of the island by collecting, preserving and teaching regional, island and family heritage.
In keeping with our mission, the GIRHC is launching a major fundraising campaign that will become an indelible part of our island history.  As part of the schoolhouse's improvements, the Town of Clayton and the Heritage Center will combine their resources to replace the concrete in front of the entry with a handsome new area made of pavers.  This is a wonderful opportunity for all to join together and put a permanent and generous mark on the new front walkway by buying one or more pavers with your personal inscription.  The Heritage Center is promoting the Paver Project to build our funds to secure for posterity, the incredible history of this island we all are drawn to; whether a first or fifth generation Islander, multi-generational Summer Families or a dear Friend of the Island, everyone has the same desire to preserve the unique history of the Island.  Friends and family members who no longer are able to get to the Island could also imbed a bit of their personal love of Grindstone into the schoolhouse yard and be remembered as part of the rock and mortar of Grindstone.
Inscription Suggestions – In addition to inscribing your own gift, you might commemorate your entire family, a past family member who loved the island, an ancestor, or some historical spot on the island – such as Dodge Memorial Hall, the Grindstone Island United Methodist Church, the Cheese Factory, or other spots you love, such as Potter's Beach.  Note: There is no preference for placement of blocks.
Paver Pricing
6" x 6" Paver (3 to 4 Lines – Up to 10 Letters Each ¾" Size) at $40 per Paver
6" X 9" Paver (3 to 4 Lines – Up to 17 Letters Each ¾" Size) at $60 per Paver
Inscriptions with less letters, can have 1" size engraving.
Two ways to order Pavers – mail in a check or pay online!
If this is a gift for someone – please indicate on the form and put the name of the recipient.
To pay by check: click to download the Paver Order Form below, print out, complete the order form and mail in with your check:
Make checks payable to: G.I.R.H.C.
Mail the order form and check to::
Grindstone Island Research & Heritage Center or G.I.R.H.C.
PO Box 95, Clayton, NY  13624
Pay Online here:
Order and pay online through PayPal using your credit card or bank account – choose your paver size, write your inscription and click to pay online:
Order A Paver Online Here
For information or questions please contact:
Linda Brown 315 686-3380 kmotel@verizon.net  or Brenda Patch 315 523-0672 Psi@wildblue.net